Abhishek Upmanyu Faces Criticism For Supporting Deepika Padukone!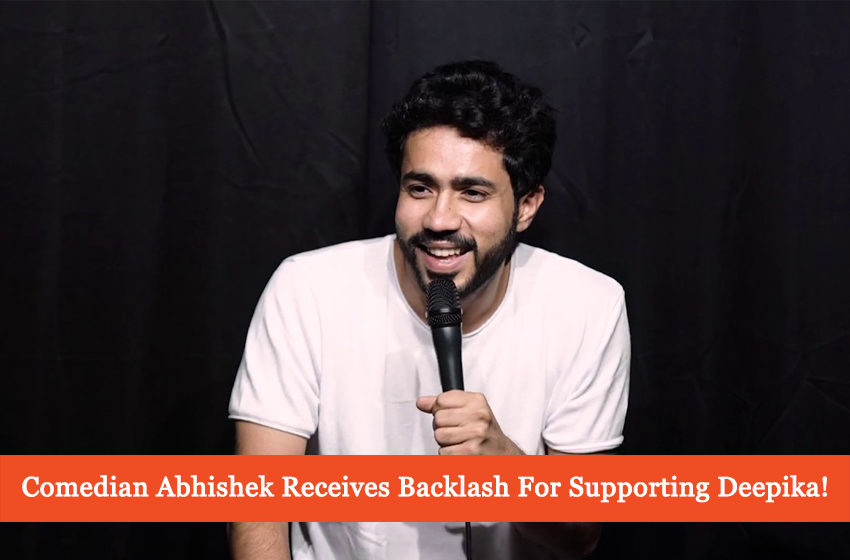 In this technologically advanced era, famous personalities have been caught in a chaotic bubble, online. However, as the world keeps on escalating with time, supporting a cause can also lead to harsh consequences. As of now, India's stand-up artist Abhishek Upmanyu is being schooled for supporting Deepika Padukone.
Stand up comedian Abhishek Upmanyu faces backlash for supporting Deepika Padukone!
Having interest in welfare activities, the "Ram Leela" star recently joined a protest during her promotions. Reportedly, Deepika Padukone was in New Delhi for the promotion of her upcoming feature "Chhapaak". Apparently, Abhishek Upmanyu's supportive tweet for Deepika Padukone landed him in hot waters.
Here's what the star comic tweeted!
Deepika Padukone heroine bhi hai aur hero bhi.

— Abhishek Upmanyu (@AbhiUpmanyu) January 7, 2020
Calling the Bollywood star a heroine in reel life and a hero in real life, the comedian offered his praises. According to Indian media reports, protestors unexpectedly spot Deepika Padukone who was there to show support at Jawaharlal Nehru University (JNU). Reportedly, the protest was held against the students by the members of an extremist political alliance.
Twitter on fire after Deepika Padukone joins the JNU protest!
Furthermore, comic Abhishek Upmanyu also paid his respect to the actress's appearance. Calling Deepika Padukone a 'hero', the comedian tweeted, "Deepika Padukone heroine bhi hai aur hero bhi". Supporting an individual isn't something wrong but eventually, it wasn't the case with Abhishek Upmanyu as the comments section tells.
Alright, Humble, whatever you say!
Bhai How can you relate her with real life Hero or heroine..just becoz someone goes out and joins a protest, he/she bcomes Hero or heroine..You have some misconceptions..You cannot support someone who hold "Free Kashmir" card in hands..Stay away frm politics bro..I'd advise

— Humble man (@iamshivambal) January 7, 2020
Ignorant much?
You know , who was the main culprit of 'Laxmi Acid attack' (2005)… His name was "Nadeem Khan" but Now your so called Hero and Heroine #DeepikaPadukone Making a Movie Chappak over that incident in which she changed the name of that man"Rajesh" from Nadeem Khan! Deal with it !

— Samarth Shukla (@sam_shukla7) January 8, 2020
"Tu na chutkule suna chutkule!"
She is just an actress ..opinion of an actress does not matter…opinion of jokers does not matter on national issues…tun chutkule suna chutkule

— Captain Kalia??? ࿗ (@Kaliaaaaaaa) January 8, 2020
Mystery solved!
Whosoever chant "Azadi slogan", similar to "Pak sponsored secessionist", is an Anti-national.

Dipika has done mistake by joining Tukde Gang.

She will lose her credit.

— Sonu Dubey (@SonuKRDubey) January 7, 2020
Here comes the boycott gang!
She is Promoting Chapaak.
She is not with students.

Stusents dont be fooled.

We will skip this Movie.
Request all not to watch this movie but pirated one if you want…..

— Dhanesh Rathod, Indian First. (@dhaneshrathod) January 8, 2020
Certainly, anti-government campaigns and minority clashes have become a usual thing in India. Anyways, earlier this week, Deepika Padukone joined the protest at Jawaharlal Nehru University (JNU)while on her promotional tour in New Delhi. Reportedly, alleged members of Akhil Bharatiya Vidyarthi Parishad (ABVP), a political wing attacked the institute on Sunday.
ABVP members attacking the JNU university!
Loaded with rocks, sledgehammers and wood sticks, the mob brutally assaulted the teachers and students of JNU. To attract attention, the victims gathered for a protest in front of the university on Tuesday night. Already on her tour, Deepika Padukone went to the university and stood tall with the protestors.
Currently, the Bollywood diva is busy promoting her upcoming biopic "Chhapaak" based on the life of an acid victim. Last year, Deepika Padukone was also rumored to appear in another Hollywood movie but sources haven't confirmed yet. Deepika Padukone's "Chhapaak" is all set to release on 10th January 2020 and hopefully will receive a positive response from the audience.
What do you think of Deepika Padukone joining the protest? Tell us in the comments section below!