Yashraj Mukhate's Remix Of Shehnaz Gill's Popular Line "Tuada Kutta Tommy" Is Going Viral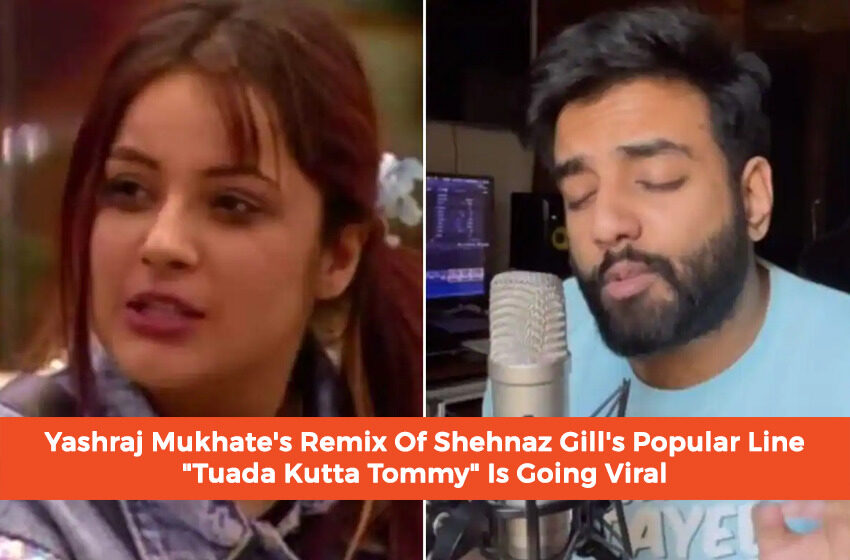 Famous Indian musician Yashraj Mukhate, whose song "Rasode Mein Kon tha" went viral on social media, has come up with yet another hilarious rap video "Tuada Kutta Tommy." This time the song is created on a dialogue by Bigg Boss 13 contestant Shehnaaz Gill and it has literally broken the internet.
As a musician, Yashraj Mukhate has been mixing videos for some time now. Apart from "Rasode Mein Kon tha", Some of his other videos such as "Biggini Shoot", "Kya Karun Main Itni Sundar Hoon Toh,"Yeh Main kar Leta Hoon" and "Garam Aande" are some of his most famous videos that have made him a social media sensation.
Coming back to the video uploaded on Tuesday, Mukhate mixed one of Shehnaaz's Bigg Boss dialogues with the dhol beats of Shah Rukh Khan's song "Pairon Mein Bandhan Hai' from Mohabbatein.
In the video, Shehnaaz can be heard talking about her feelings while  one of the co-contestants is seen offering her a bottle of water. Experesing herself, Shehnaaz says, "Kya karun Main Marr Jaun? Meri Koi feelings nahi hain? Tumhari feeling Tumhari..Tuada Kutta Tommy, Sadda Kutta Kutta."
Netizens can't control their laughter at Yashraj Mukhate's hilarious video
The song by Yashraj Mukhate has now become an instant hit among netizens with many celebs commenting how addictive the tune Tuada Kutta Tommy can be. #TuadaKuttaTommy has been trending on Twitter.
This is next level viral…I am so so happy….sharing few of them @ishehnaaz_gill #ShehnaazGill pic.twitter.com/GZSsESoInl

— Isha Priya 🖤✨ // Happy Bday Sid ❤️ (@ishapriya22) December 10, 2020
Wowowowowow @goibibo u made my day…#TuadaKuttaTommy #WaadaHaiHits30M

Read the caption also 😂😂😂😂 pic.twitter.com/22vGXrBfkX

— *AKSHITA* (@Akshi_spks) December 10, 2020
@YBMukhate you are amazing👏👏 This is a treat to all @ishehnaaz_gill fans😍😍
My daughter recreats #TuadaKuttaTommy #ShehnaazGill #Shehnaazians pic.twitter.com/Z9j9O93OEv

— Dhanshree Sharma (@Dhanshreeshrma) December 9, 2020
Try karo, easy hai….
😂😂😂@YBMukhate @ishehnaaz_gill #TuadaKuttaTommy #YashrajMukhate #ShehnaazGill #TuaddaKuttaTommy #funtashmemes #funnymemes pic.twitter.com/XfpjZsNozm

— Neelima Kulkarni (@starneelima) December 10, 2020
It is good to see an artist like Yashraj gaining so much popularity among fans. One of his recent songs by the name of "Biggini Shoot" became highly famous. It was popular that actress Taapsee Pannu grooved to the song along with her sisters during their Maldives vacation.
Since the very beginning of Bigg Boss Season 14, Shehnaaz Gill has gained immense popularity with her stint in the show. Her spontaneity, humor and one-liners were loved by many.
Shehnaaz Gill's chemistry with former winner Siddharth Shukla has been the highlight of this Big Boss season.  It also remains the most talked about topic. Together, they recently featured in a music video 'Shona Shona' by Tony and Neha Kakkar.
Contestants need to improve their performance in Big Boss, states Shenaaz
It is indeed good to see Shehnaaz having a good time at Bigg Boss. However, Shehnaaz is unhappy with performance of contestants of Big Boss. A while ago, Shehnaaz came come down heavily on Bigg Boss contestants for non-performance in the house. In an interview to TOI, she said that they need to up their game.
She stated, "I am following the season, and I feel that everyone's true colours will be revealed eventually. No matter how hard you try to act all sweet and nice, 'Bigg Boss' will bring out the real you. Tumhari asli personality baahar nikalva hi deta hai. The show tests you and your patience. However, till now, the current contestants seem to be confused about what they have to do inside the house. They don't have a point of view and are too reliant on the seniors. While the presence of seniors helps establish an immediate connect with the audience, the drawback is that the freshers aren't playing their own game. Competition nahi hai."
Shehnaz further added, "The freshers have not been able to make a place for themselves. They are saying, 'Seniors jab jaayenge tab hi khelenge'. If I were a part of this season as a fresher, I wouldn't follow a senior blindly. I have a mind of my own aur main sab danke ki chot par karoongi. My advice to the current contestants is, khud ka vajood rakho, lado, bhido ek dum sher ki tarah. Kisi ke aage peeche poonch ban kar mat raho. Apna game khelo without being selfish. Apna stand toh har koi le leta hai, but doosro ka stand lena seekho."
What do you think of this story? Let us know in the comments section below!