Bigg Boss Season 14: Toofani Seniors Share Their Interesting Life Experiences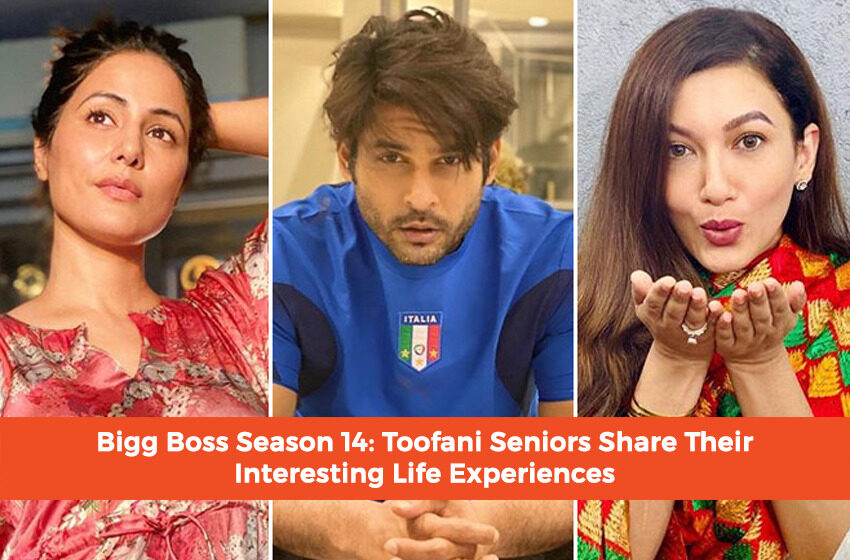 The fact can't be denied that Bigg Boss Season 14 has been full of drama, tension and entertainment. Bigg Boss 2020 kickstarted with a fresh format earlier this month. Three former champions – Gauahar Khan, Hina Khan and Sidharth Shukla were brought in as 'Toofani Seniors' to mentor the 'Fresher' batch of Bigg Boss 14 and share their experiences.
While it's not new to have past contestants coming in as guests to share their pearls of wisdom and experience, this time it has suddenly become all about them. During the premiere, they decided which housemate they wanted to accept and reject, and even got them to do some silly tasks in order to get an entry in the main house.
They will already be informed by host Salman Khan that after a grace period of 14-days, these seniors will choose which contestants get to go ahead in the game. But even in the midst of this cutthroat competition, these seniors are having some fun time.
In a few instances, the seniors shared their funny and interesting life instances with each other. In this article, we will share with you some of the funny instances and experiences that the toofani seniors shared with each other during Bigg Boss Season 14.
Sidharth Shukla shares his love story to Gauhar Khan
In an interesting incident, Bigg Boss 13 winner Sidharth Shukla shares his love story to Gauahar Khan. He shares to the actress regarding a childhood incident where he revealed to her mother that he has a girlfriend. His mother, however, took it very casually. She asked Sidharth "Its good that you have a friend who is a girl."
Gauhar Khan recalls her childhood days
In another hilarious incident, Actress Gauahar Khan shares a hilarious story about playing house during her childhood days and reveals that she used to make her little brother pretend to be her pet. She shared an instance from her childhood. Gauhar shares her brother always insisted on doing something only if she does it too.
Gauahar's mother, on the other hand, had set a rule in the house. The rule stated that, until the kids grow up they all have to shave their heads once a year. Gauahar's sisters who had already grown up didn't have to get through the 'torture'. But, since her brother and she herself were the only young kids in the house, hence they had to shave their heads.
Hina Khan shares memories of childhood
Hina Khan shares memories of her childhood when she used to be a notorious kid. She said that once tried to make food at her home when she was 12 years old. She took out leaves and other herbs in her garden and used it for cooking. However, her cooking attempt backfired as all of the food items fell out of the stove. It became haphazard.
Sidharth narrates a fun experience
Another fun-filled incident was narrated by Sidharth Shukla. He narrates a funny experience he had in college where one of his rich friends asked him to have a coffee together. Sidharth said I don't like coffee.
His friend insisted and said that he will pay for it. Sidharth agreed and he had coffee. The coffee was worth Rs 75. After drinking the coffee, Sidharth was impressed. He offered his friend to have another coffee and this time he will pay for it.
What do you think of this story? Let us know in the comments section below!