Pink Ball Test – India Beat Bangladesh By An Innings Margin & 46 Runs!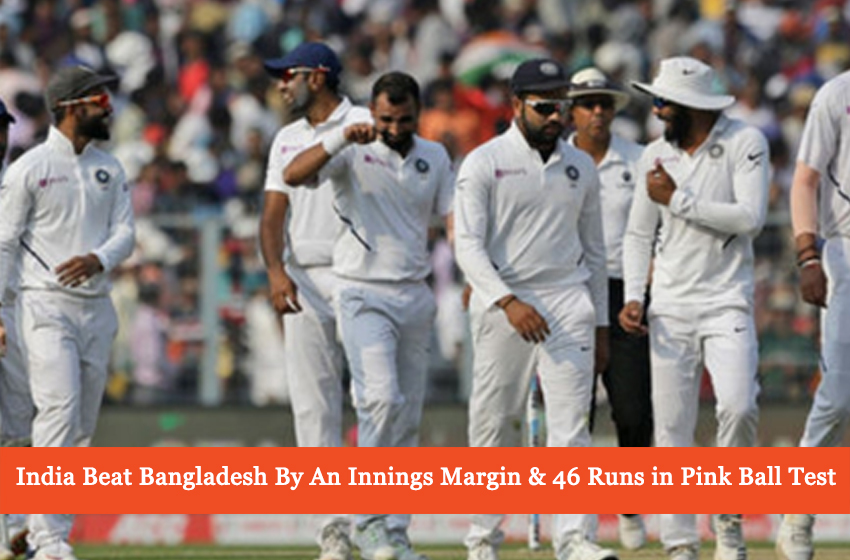 There is no doubt that over the past years, the Indian Cricket Team has marked its worth in the world of cricket. After Mahinder Singh Dhoni, Virat Kohli has definitely delivered up to the mark every single time as a team captain. However, the recent Pink Ball Test Series took a historic turn after India knocked out Bangladesh with a huge difference of an inning and nearly 50 runs.
India beat Bangladesh by an innings margin and 46 runs!
However, the exciting 3rd-day match turned out to be a horrifying ride for the Bangladeshi players. Reflecting upon the Pink Ball Test series, the former Indian cricketer Saurav Ganguly shared pictures of 'pink sweets'. Happening in Kolkata's Eden Gardens, team India ended the weekend match after beating Bangladesh by an inning and 46 runs, precisely.
The India Cricket Board also celebrated the deserving win!
India win by an innings and 46 runs in the #PinkBallTest

India become the first team to win four Tests in a row by an innings margin ??@Paytm #INDvBAN pic.twitter.com/fY50Jh0XsP

— BCCI (@BCCI) November 24, 2019
Keeping no stones unturned, the Indian Cricket Team has yet again proved to be the worthy side currently. According to media reports, India's Umesh Yadav swiped out the opponent team's lower order. Well, it was a resumption of the 2nd-day match that ended at a score of 157/7 from India but Bangladesh was bowled out within 50 minutes after it continued.
India and its exceptional performance in every match!
While Bangladesh couldn't achieve the target, India won its seventh consecutive Test series, accordingly. Surprisingly good, out of seven, the Indian Cricket Team has ousted four teams with an innings margin and more than 50 runs. Previously, India has beaten South Africa two times by an innings margin and now has beaten Bangladesh as well.
Seventh consecutive for India!
This is #TeamIndia's 7 straight Test win in a row, which is our longest streak ???#PinkBallTest @Paytm pic.twitter.com/Lt2168Qidn

— BCCI (@BCCI) November 24, 2019
Apparently, this was the 3rd-day of the first-ever day-night Pink Ball Test series between India and Bangladesh. Happening in Eden Gardens of Kolkata city, team India sure kept up with its victorious reputation on its home ground. As the gentleman's game is also evolving along with the world, playing the Pink Ball format was also a meaningful experience.
Previously, two times South Africa, now, two times Bangladesh!
Depending on the current situation of the cricket game, India has eventually become the world favorites. Taking the Test perspective, India has previously beaten South Africa in Pune with an innings margin and 137 runs. On the Ranchi Test, yet again, South Africa was ambushed by the Indian team in Ranchi by the same innings difference but the runs went up to 202.
Later, in a prior Test series, India had clean-swept Bangladesh by an innings margin and 130 runs in Indore. Now, recently, India has again sent Bangladesh home after a remarkable Test win at home. Well, the Pink Ball Test series not only had the cricket fans excited but India's Ajinkya Rehane had even started dreaming about it.
What do you think of India's win? Let us know in the comments section below!