Nawazuddin Siddiqui Picks Work Over Family As Sister Passes Away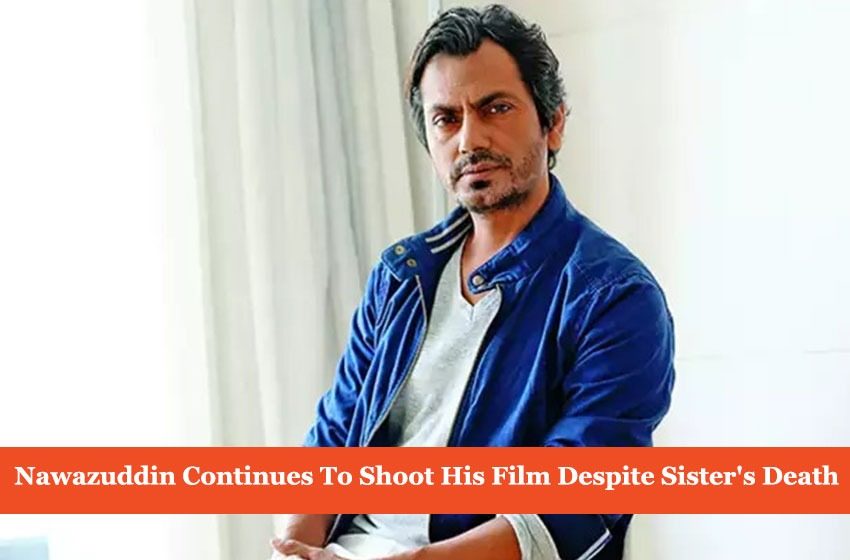 Without a doubt, Nawazuddin Siddiqui is one of the best actors in the East, let alone India or the Sub-Continent at large. Nawaz's rise to fame is all due to his hard work and the attitude of never giving up.
These days the Gangs of Wasseypur star has been working/shooting in New York for director Mostafa Sarwar's movie No Land's Man. The picturization of the movie is being done in New York, USA.
While at work, Nawazuddin Siddiqui received the tragic news that his sister Syama had passed away due to cancer. During the course of the news broken, Nawazuddin was still involved in the scene. However, he did not complain or break the news to the team, but he delivered the scene with perfection, just as he does.
The cast and crew of No Land's Man learned about the tragic news much later. The director of the movie, emotional himself, went on to tell the world the tale of Nawazuddin's dedication.
Mostafa Sarwar Farooq pays tribute to Nawazuddin Siddiqui
He wrote: "Life of an artist! While rehearsing a scene from No Land's Man, Nawazuddin Siddiqui became slightly emotional but, since he is extremely professional, he quickly regained his composure. Later on, I came to know the reason. The scene I mentioned was between him and his sister whose reel name was Saima. He asked me if I knew his sister's name is Saima too. I answered negatively as my script was written five years ago and I had no idea about his sister. He then told me his sister Saima has been suffering from cancer for eight years and he has been trying everything he could to help her in this battle. So whenever he had scenes (phone conversations) with Saima, he was feeling extremely emotional."
Read Also: Kapil Sharma And Wife Ginni Chatrath Welcome A Baby Girl!
The director went on to add: "Two days ago, while we were shooting a scene, he received a call. We had no idea what was going on. He completed the scene brilliantly. After we packed up, I came to know he lost his sister while we were shooting that scene."
Farooq further revealed: "While coordinating everything back home, he continued his shoot and made sure our New York shoot is completed."
My sister ws diagnosed of advanced stage #breastcancer @ 18
bt it ws her will power & courage dat made her stand agnst all d odds
she turns 25 2day & still fighting
M thankful 2 Dr.@koppiker & @Lalehbusheri13 fr motivating her
& m rly grateful 2 @resulp Sir fr introducng me 2 dem pic.twitter.com/xHsBK8uJDP

— Nawazuddin Siddiqui (@Nawazuddin_S) October 13, 2018
Nawazuddin Siddiqui then had previously shared a tribute to his sister from his Twitter account. He revealed that his sister was diagnosed with breast cancer at a very early age and she was fighting like a warrior. However, fate had other ideas when Nawaz was shooting in New York.
Yes, the pain of losing someone close to you is unbearable. But for some people, work means just as much.