Mumbai Police File FIR Against Sushant's Sisters And Doctor!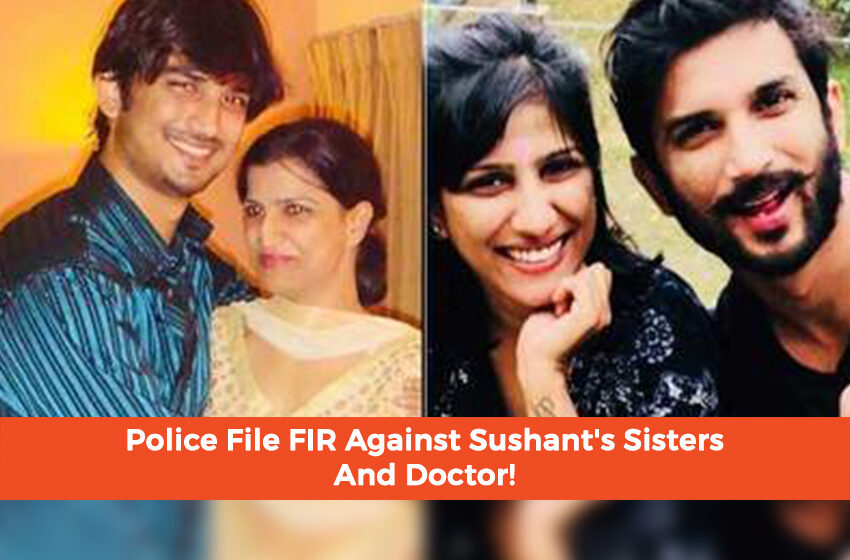 Another important twist has unfolded in the Sushant demise saga. The Mumbai police have recently filed an FIR against Sushant's sisters Meetu and Priyanka Singh and a Delhi-based cardiologist, Tarun Kumar. The case registered states that the three were conspiring with each other and giving Sushant anxiety pills that were based on a forged prescription. It is important to note that there has been no Sushant Singh sister confession yet.
According to the FIR "The accused did hatch a conspiracy. They had access to false prescriptions on the letterhead of a government hospital for medicine that got a ban by the Indian government under the NDPS Act. They accused had also administered the same without supervising doses and quantity. This may result in a chronic anxiety attack and which resulted in the commission of suicide."
Sushant's sisters are joint beneficiaries to his bank account
According to a statement by Rhea Chakraborty, Meetu and Priyanka were also joint beneficiaries in Sushant's bank account. They wanted to take total control of his finances. She further demanded an investigation into what happened after she left Sushant's house on June 8. After that, his sister Meetu started to live with him. DCP N Ambika, Mumbai Police's spokesperson, said that Meetu, Priyanka and Tarun Kumar were prescribing medicines to Sushant from Delhi. The police also sent they sent him digital forged prescriptions to buy these medicines.
The report by Mumbai Police spokesperson says ""As per the complaint of Rhea Chakraborty, a case is registered at Bandra Police Station, Mumbai. They are registered under sections 420, 464, 465, 466, 468, 474, 306, 120B, 34 IPC and r/w Sec 8(c), 21, 22(A), 29 of NDPS Act. In line with orders of Hon'ble Supreme Court of India, the case is duly transferred to CBI for further investigation."
Sushant's family lawyer Vikas Singh Tuesday alleged that the FIR registered by Mumbai Police against Sushant's sisters is illegal and the actor's family will take serious action in the matter. According to Singh, the case related to Sushant's demise was serious. He says that multiple agencies like the CBI, Enforcement Directorate and Narcotics Control Bureau are probing the issue. As a result, they will not allow the accused to deflect the investigation by filing of such complaints.
Police arrest Rhea Chakraborty
Earlier this week, Rhea Chakraborty arrested in Mumbai by India's Narcotics Control Bureau (NCB). This was after three days of questioning in connection with drugs-related allegations in the Sushant Singh Rajput case. On Tuesday afternoon, the NCB arrested Chakraborty in Mumbai. The agency had summoned the model-turned-actress to the NCB office for the third day of interrogation.
After hours of interrogation, the accused confessed that she used to take drugs along with her brother Showik and the late actor. The 28-year-old's lawyer Satish Maneshinde, issued a statement on Chakraborty's arrest, calling it a 'travesty' of justice. This does illustrate that Sushant Singh sister controversy and Rhea Chakraborty will provide further evidence for Sushant Singh Rajput CBI inquiry.
What do you think of this story? Let us know in the comments section below!