Kartik Aaryan Shares His Portrait Made By Bigg Boss 13's Shehnaz Gill!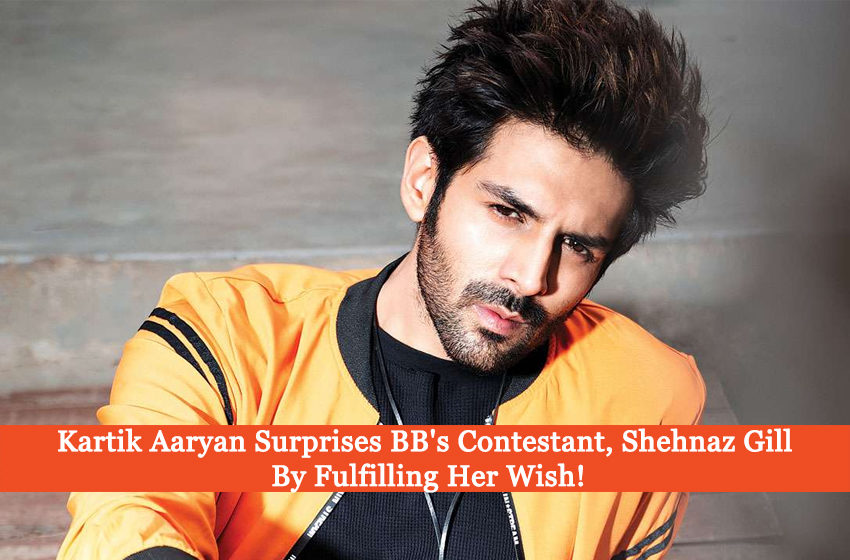 The Indian reality TV show, Bigg Boss, is currently in its thirteenth edition with several known personalities under one roof. Apparently, one of the participants of the show, Shehnaz Gill recently got lucky after she made a rough drawing of Bollywood actor Kartik Aaryan. Fulfilling her wish, Kartik Aaryan made Shehnaz Gill happy as he posted the photo of the portrait on his official Instagram.
Kartik Aaryan fulfills Shehnaz Gill's wish by posting the portrait she made online!
Apparently, Kartik Aaryan comes among those Bollywood stars who struggled hard and tasted success in a short span of time. Last week, Kartik Aaryan surprised his mother with a whooping 43.39 Indian rupees Mini Cooper car on her birthday. Calling it a masterpiece, Kartik Aaryan recently shared his portrait photo made by Bigg Boss 13's contestant Shehnaz Gill on his social handle.
Check out Kartik Aaryan's recent Instagram story!

Since Kartik Aaryan is busy with the promotions fo his upcoming movie "Love Aaj Kal 2" opposite actress Sara Ali Khan. For a similar agenda, the lead cast of the sequel visited Bigg Boss 13 house and interacted with the contestants. Apparently, it wasn't the first time Kartik Aaryan has come inside the house as previously, promotion of his hit "Pati Patni Aur Woh" was also done.
Kartik Aaryan and Sara Ali Khan promote "Love Aaj Kal 2"!
In his last tour, contestant Shehnaz Gill had expressed her fondness for Kartik Aryana and how much she admires him. However, in the recent second visit, two in-house participants were given a task by the actor. Kartik Aaryan challenged participants Rashmi Desai and Shehnaz Gill to make a portrait of him and that he will choose the winner at the end.

Fortunately, victory landed in Kartik Aaryan's fan Shehnaz Gill's pocket which then led to a request made by the winner. Upon winning, Shehnaz Gill asked the actor to share the portrait she made on his official Instagram. Man of his words, Kartik Aaryan then promised the Bigg Boss contestant that he will post it online soon and actually did share it online.
"What a lovely piece of art!"
Certainly, Shehnaz Gill's love for Kartik Aaryan became evident in the portrait which was earlier shared. Tagging Shehnaz Gill, the actor captioned, "What a lovely piece of art!! My portrait by [Shehnaz Gill]. Thank you for this masterpiece". Certainly, now you know, how well Kartik Aaryan treats his fans and admirers and shows his love for them.

Well, it seems like, the actor is not going to slow down anytime soon as apparently, he has cracked the code to success. Last year, Kartik Aaryan became the first Bollywood actor to get an Instagram filter and it deserves appreciation. However, we are extremely excited for "Love Aaj Kal 2" to release and probably, will be another hit for Kartik Aaryan.
What do you think of Kartik Aaryan? Tell us in the comments section below!