Indian Con Man Posed As A Lufthansa Pilot Enjoying Perks Finally Caught!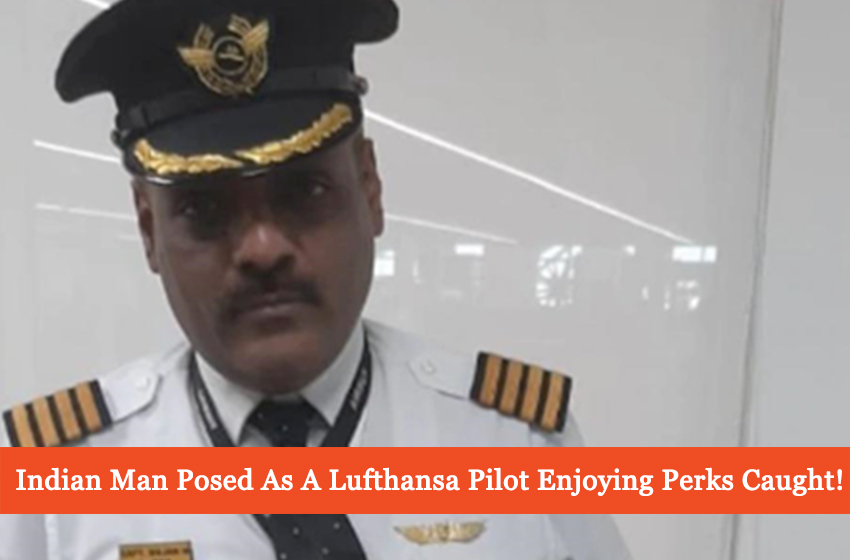 When Bollywood is infused with reality- You are graced with a con-man from Delhi posing as a pilot of Lufthansa airlines. This is the story of Rajan Mahbubani, who at 48 years of age has been impersonating a pilot of the said airlines and enjoying the perks that come along with it. Which include easy access to flights, immediate upgrades, escaping security and not having to wait in long queues. On Monday, at the Delhi IGI airport, Rajan was finally intercepted.
Rajan Mahbubani has been at this pilot-impersonation-game for six months.
Upon interrogation, it was revealed that Rajan is fond of donning himself in various uniforms and taking pictures of posing in them. His hobby of sorts turned into a full-scam, however, harmless. In addition, he confessed to taking more than 15 flights. Moreover, sources said, "He used to identify himself as a consultant and instructor with the Lufthansa base at Kolkata"
He was caught from the departure gate on Monday, this week. The officials reported that he was about to board an Air Asia flight to Kolkata. Rajan's golden days of enjoying perks as a 'supposed-pilot' came to an end when his credentials were sent to match. In addition, he owned a fake ID bought from Bangkok.
The sources informed, saying, "AirAsia India from Delhi Airport called up Lufthansa office to confirm the travel of this person, who was wearing the German carrier's uniform and had an identity card. Lufthansa immediately sent its team to contact this person at boarding gate 52 inside the security hold area of T3, Delhi Airport. When confronted by Lufthansa officials, this person admitted to impersonation"
Read Also: Ranu Mondal Gets Trolled After Her Picture With Full Face Of Makeup
Interrogation revealed Rajan having a YouTube channel as well.
Of course, how can you not take advantage of such easy access to aviation? Rajan informed about the YouTube videos that he would shoot on the airplane. Much like the 'Flying Beast' channel, only Gaurav (Man behind the channel) is an actual pilot.

Moreover, even the content in his phone contains him wearing various uniforms, even that of an Army colonel. In addition, he shot various videos on TikTok in these getups. It sounds like a movie, right? However, identity thefts and impersonations to carry out various small to big crimes isn't a new story.
Although Rajan hasn't caused any harm to others or the airline, forging fake IDs and impersonation is a certain level of crime. The culprit definitely had a time of his life, considering all the advantages, perks and preferential treatment he was enjoying. Deputy Commissioner of Police (IGI Airport) Sanjay Bhatia informed on what is to await this friendly-impersonator; a case against his folly.

Good thing he wasn't caught in a risky situation where his expertise would've required – Taking a recent example of an Indian flight that was caught in thunder and storm above Pakistan's city of Karachi. Luckily, the Pakistani air traffic controller saved the flight carrying 150 passengers. Hopefully, Rajan would understand the severity of his little game.
Have anything to add to this story? Comment in the section below!