SRK Birthday Week: Top 5 Most Underrated Films Of King Khan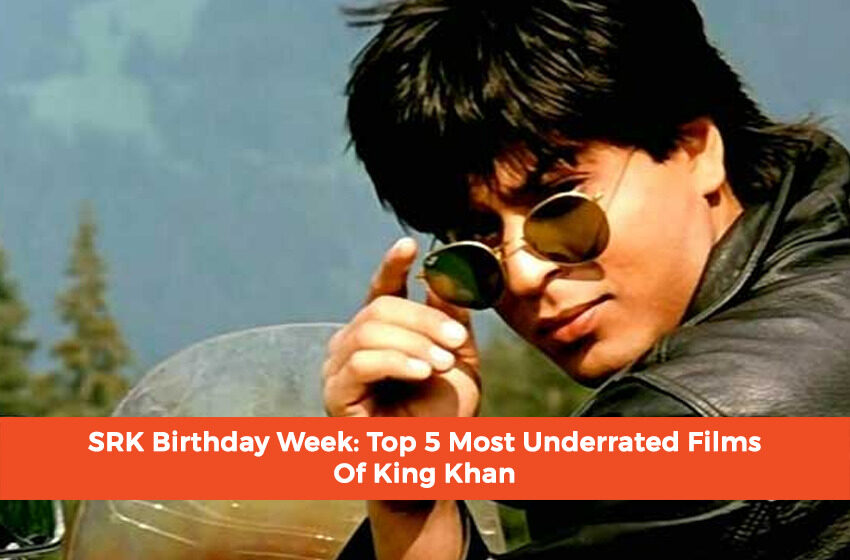 There is no doubt in the fact that Shah Rukh Khan (SRK) will always remain as one of the legends of Hindi cinema. With more than two and a half decades in Bollywood, it is evident that SRK is irreplaceable in our hearts and will remain so forever. On the birthday of SRK, there are some top films that you must watch.
While SRK is known for his blockbusters such as Baazigar, Dilwale Dulhania Le Jayenge, Kal Ho Naa Ho, Kabhi Khushi Kabhie Gham, My Name is Khan and Kuch Kuch Hota Hai amongst many others, he has also starred in several films that didn't fare so well at the box office.
As the actor celebrates his 55th birthday this week, here is a list of the top 5 films of SRK that are highly underrated. You should certainly check out and enjoy Shah Rukh Khan birthday week
Dil Se (1998)
Released in 1998, Dil Se is directed by Mani Ratnam. It is regarded as one of the best SRK  movies. SRK showed the different emotions he feels for Meghna (played by Manisha Koirala). He had infatuation, hatred, longing, obsession, and veneration towards her. He makes sure that the audience does go through these emotions with him. Dil Se is one of the top underrated films you must watch while celebrating the birthday week of SRK.
Some movies have a great story some have great characters and some great music. This movie is the ultimate demonstration of Mani Ratnam's Genius. SRK delivers one of the best performances of his life. A.R Rahman does a fabulous job mixing the cultures and giving Melody which does justice to the lyrics of Gulzar. Cinematography requires a special mention because every shot contains details that soothe the eye and makes it hard to blink, so you don't miss a shot. The opening Platform sequence is my favorite shot.
Raju Ban Gaya Gentleman (1992)
Regarded as one of SRK's best-ever performances, Raju Ban Gaya Gentleman showed SRK as Raj Mathur. He travels to Bombay to earn a name for himself. The story of the film is much like the actor's own life. The film revolves around him as he struggles to make ends meet.
It also shows how while finding work, the actor stumbles upon the love of his life essayed by Juhi Chawla. The film was released in 1992. However, it is still a must-watch for all of the fans of SRK.
Swades (2004)
The fact can't be denied that Swades is certainly one of the best movies of Shah Rukh Khan. He played the role of a scientist who comes to India for a few days. He then decides to stay in India to contribute to his own land with all the talent and potential he has. The best thing about Swades is that it tried to bring up the issue of brain drain from a developing country like India.
The film did not have SRK romancing amid the mountains and the trees wearing all the stylish outfits. The film showed SRK as a highly educated and thinking young Indian. He is regarded as a man that could influence an entire generation to think before searching for better opportunities outside their country.
Chak De! India (2007)
Directed by Shimit Amin, Chak De! India is certainly one of the most meaningful sports films ever to come out of India. The film featured SRK in a very serious and emotional role. Being a mainstream Bollywood film, Chak De! India did just more than serving entertainment to its viewers.
As an actor, SRK looked powerful. He took on important issues such as sexism, religious hatred and politics of organized institutions in the area of sports. SRK played the role of a star hockey player by the name of Kabir Khan. He is shunned off the team and society after losing a game against Pakistan. The film was a perfect combination of quality content, performances and entertainment that do leave you thinking about the film long after you finish watching it.
Kabhi Haa Kabhi Na (1994)
Directed by Kundan Shah, Kabhi Haa Kabhi Na is one of the rare mainstream Hindi movies in which the hero plays the role of a loser. It stars Shah Rukh Khan, Suchitra Krishnamurthy, Deepak Tijori and Naseeruddin Shah. It is widely considered to be one of Shah Rukh Khan's best performances, and he has said that it is his favorite film. The film has an unconventional storyline as it portrays the story of a dreamer. He falls for a girl who is in love with someone else and tries to create a rift between her and the man she loves.
SRK is portraying a loser who didn't achieve anything worth praising as per society. However, there is one thing that society never understood. It was the talent he had which made him unique. At the 39th Filmfare Awards, it won the Critics Award for Best Film and the Critics Award for Best Actor for Shah Rukh Khan, who also won the Best Actor award for Baazigar at the same ceremony. It is indeed one of the best SRK movies.
What do you think of this story? Let us know in the comments section below!