"Bigg Boss OTT Six Finalists" Last Weekend Ka Vaar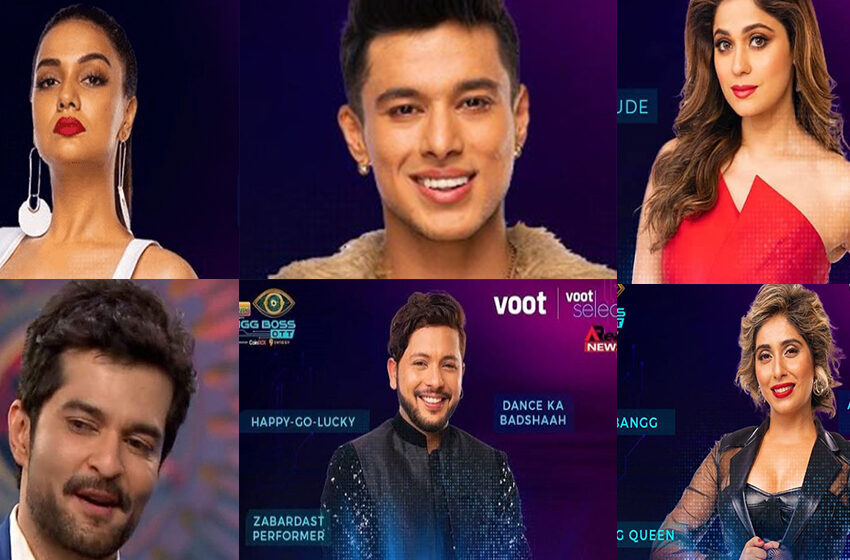 Bigg Boss OTT has entered into the final week where yesterday Karan Johar in Weekend Ka Vaar announced the top six finalists and also revealed the trophy as well.
[adinserter block= "3"]
Not only did those two ex-contestants Rashmi Desai and Devoleena came in and played some fun games with the housemates.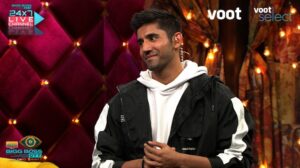 One of the biggest surprises of the evening was the entry of Divya Agarwal's boyfriend Varun Sood who cherished the whole environment and spread his love.
Things were going very smoothly, but there was a hammer hanging over the head of some contestants because of the nominations.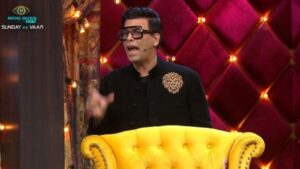 During Weekend Ka Vaar, Karan Johan took somehow class of Raqesh Bapat and Prathik which heated the moment.
Want to know what happened in Weekend Ka Vaar? Want to see the Bigg Boss OTT trophy? Let's have a recap of it.
Finalists Of Bigg Boss OTT-Weekend Ka Vaar
Weekend Ka Vaar looked different this time, as Karan Johar started with Raqesh Bapat and Shamita Shetty's relation and he called Raqesh 'sexist' for his 'men are stronger than women' logic.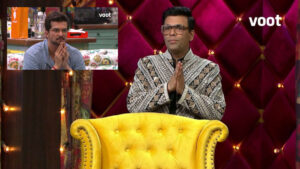 On the other hand, Karan didn't stop there he moved to Prathik Sehjpal and called him 'spoiled brat' for his behavior in the house.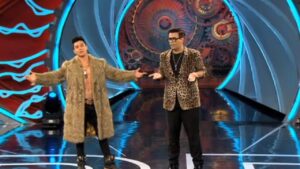 He told him that, "he told his son Yash that he is a spoiled brat for asking for an iPad and other things. He said that the same goes for Pratik, and said, 'You are a spoiled brat, Pratik.'"
[adinserter block= "10"]
Plus Prathik's friend Neha also got bashed by a caller who said, if this show doesn't mean anything to you and you said this show is S**T then why are you here which made her speechless.
Elimination & Karan Praising Divya Agarwal
As mentioned above Bigg Boss OTT reached its final stage where the top six contestants left as Moose got eliminated by the housemates. Neha and Moose were in the danger zone where Karan asked them to wear bombs on their waist with the wires attached.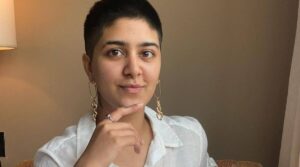 Each member came and cut the wire of that contestant whom they believe should be in the final. Divya and Nishant cut moose wires but the rest of them supported Neha. In the whole procedure, Moose got eliminated and there you get six finalists Divya Agarwal, Neha Bhasin, Nishant, Prathik, Shamita, and Raqesh.
In the Weekend Ka Vaar, there was one thing that made fans happy especially Divya's fan because for the first time throughout this season Karan Johar praised Divya Agarwal. It was shocking because since the Bigg Boss OTT begun Karan Johar always targeted Divya unnecessarily.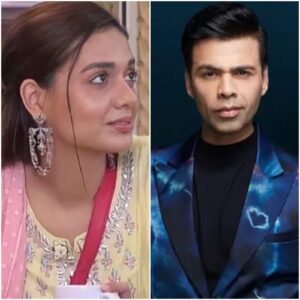 He said, "she's the only contestant who has reached the finale week by playing the game solo while also warning the other contestants that she's playing the game well, whereas the connections they've formed could cost them big time come to the finale."
And believe it or not, Divya Agarwal nailing it in the show playing solo, and reached the final. She's been trending since the season started on social media.
Since Karan johar said that, Divya's fans believe that she will win the show and deserves more.
Trophy Revelation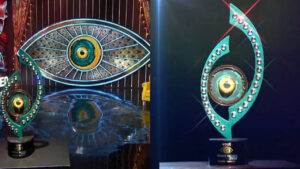 Karan Johar in the beginning stunned the contestants when he unraveled the Bigg Boss OTT trophy in front of the housemates which made them awe-struck.
The final six contestants are left for five days because on Saturday the grand finale will take place where you will witness the first-ever winner of Bigg Boss OTT.
[adinserter block= "4"]
It's going to be a big night for them and for the fans too. Because who's going to win will be a huge surprise for everyone.
What do you think of the story? Tell us in the comments section below.
Facebook Notice for EU! You need to login to view and post FB Comments!