Priyanka Chopra And Nick Jonas Had A Blast At The Thanksgiving Dinner!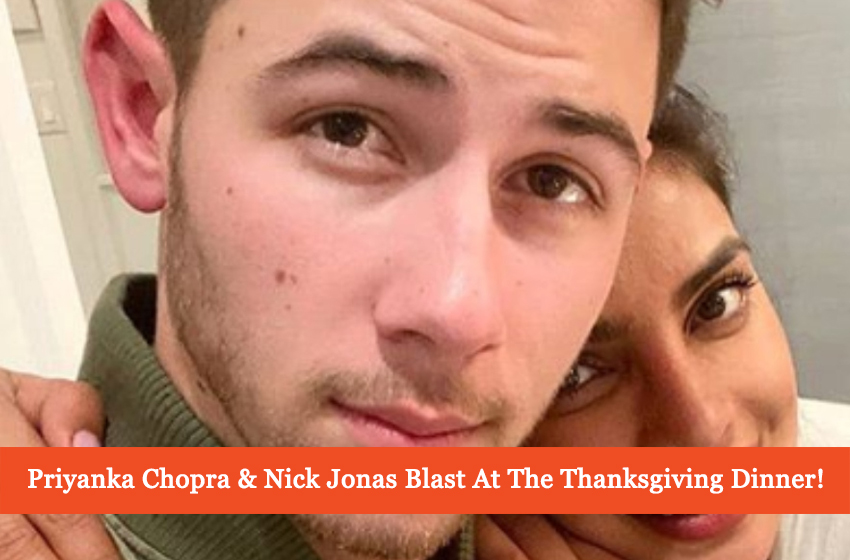 The Bollywood diva Priyanka Chopra's life definitely fastened after she landed her role for a Hollywood American television series 'Quantico'. While playing the role of Alex Parrish, little did PC know that she will find the love of her life – Nik Jonas. The pair first met through a mutual friend Graham Rogers, who is Priyanka's co-star on the show and has previously worked with the pop-star-husband Nick Jonas. The rest is history and the married couple is definitely living their best happy lives together.
Priyanka recently shared moments from the Thanksgiving dinner she attended with Nick's family. PC was clearly blown away by the amount of food that was on the table. And since we know PC loves to have a good time and Nick isn't much different, the couple goofed around while having some quality time, together.
Here's Priyanka overwhelmed by the amount of Thanksgiving food.
Too much food, indeed. Looks like Priyanka was ready to put on some extra pounds that night. Moreover, the couple shared a funny video playing around with the Instagram filters – Nickyanka not disappointing with being the #couplegoals.
We knew how much Nick doted on this Indian beauty since Nick is quite obvious. However, Priyanka doesn't leave any details out from the special moments and regularly posts the memories on to Instagram, too. Since their one year anniversary is coming close, PC decided to have the pre-celebrations going. Recently, Nick shared the surprise gift Pri got for him and it is adorable.
His caption read, "Pri came home with the absolute best surprise this morning. Please meet our new pup @ginothegerman I haven't stopped smiling since I woke up this morning and finally realized what was going on. Thank you @priyankachopra."
Gino The German made another appearance in Priyanka's Insta post and by the looks of it, Nick is smitten by the German Shepherd.
Priyanka and Nick will celebrate their first wedding anniversary on the 1st of December. It's crazy how time flies. It is as if yesterday, the news broke out and we saw two cultures and countries coming together in a happy union. This resulted in two different wedding ceremonies; white and Hindu! However, Priyanka slayed both looks.
On the day of the Indian wedding, Priyanka stunned everyone in a blood-red gown, looking like a Hindu Goddess; while Nick looked as elegant as ever.
Of course, the celebrity couple received their share of criticism. Priyanka is 10 years older than Nick; this fact irked many but you know what they say, love triumphs everything in its way. So did Priyanka Chopra Jonas and Nick Jonas. However, rumors of their upcoming divorce spread like wildfire and people who were doubtful of their odd union as a couple, believed it to be true. But they seem to be doing more than just fine.
Nonetheless, we wish them a lifetime of happiness and blissful togetherness. Amen!
Have anything to add to the story? Comment below!