Arjun Kapoor Shares The Poem He Wrote As A Child For His Late Mother!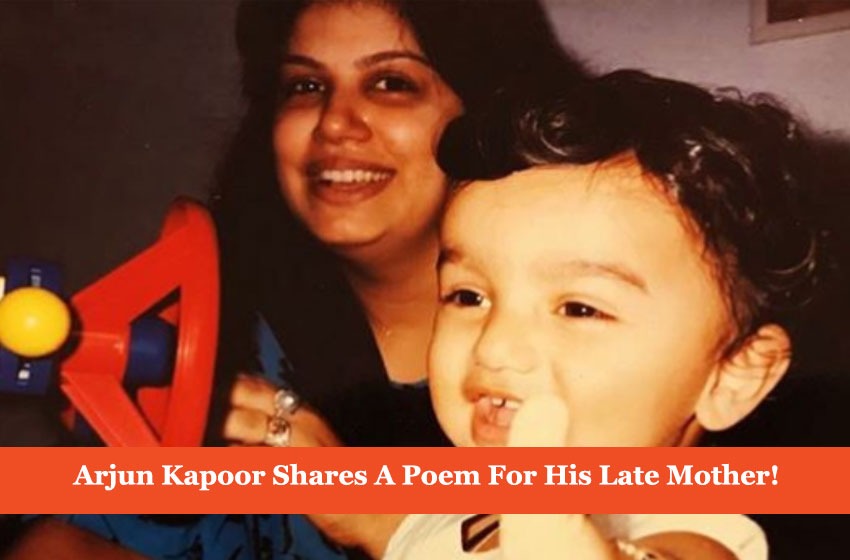 There's a certain misconception attached to celebrities regarding their relationship with their immediate families. Normally people consider it to be sour because of fame, wealth and unavailability. However, that isn't the case mostly. Especially parents- for any person, be it an actor, a successful billionaire or any important personality for that matter, their parents are the most important and cherished people; their loss is devastating for any child.
The same is the case with Arjun Kapoor, who shared a beautiful memory of his late mother with the world.
Panipat actor Arjun Kapoor shares a heartwarming poem he wrote for his mother as a child.
It has been 8 long years since the passing of Arjun's mother, Mona Kapoor. She lost the battle of cancer and passed away months before Arjun's debut movie Ishaqzaade. She left the world on March 25, 2012 and the fil released on May 11, 2012. Of course, the loss of his dear mother would have been crushing for him and it shows through his recent share, how he is still managing to cope up with the grave loss.
His beautiful poem read: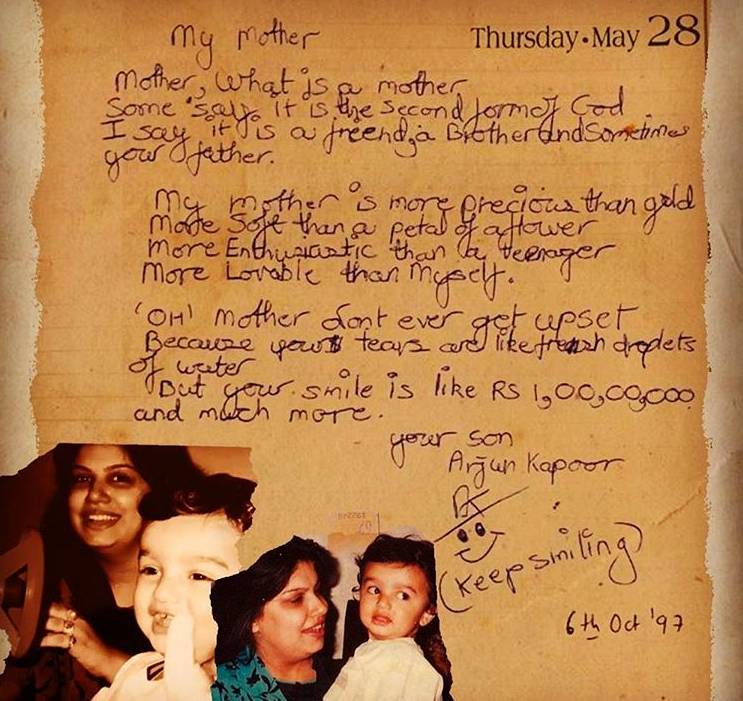 "But your smile is like Rs, 1,00,00,000 and much more" Truly, a mother's smile is priceless.
Arjun Kapoor shared his poem with a beautiful message conveying his grief too loudly to the world.
He wrote, "Found this handwritten poem of mine pardon the handwriting though… I wrote this for Mom when I was 12 years old. It's maybe my most purest moment as a child where I felt loved & wanted to thank her for the love she gave me. I miss her love, I'm vulnerable every morning without it. I didn't have a choice but to accept that I wouldn't have her Love anymore… on most days it feels unfair & it bothers me, it consumes me I feel lost & helpless…. I'm just writing this as a son & nothing more."
Read Also: Amitabh Bachchan Faces Backlash After His Tweet Caught Attention!
"I wish I could hear her call me Beta one more time… I miss her all the Fucking time & it makes everything seem irrelevant more often than not… I broke 8 years back… now I wake up trying to fix myself every morning smile at life but honestly that vacuum shall never cease to exist. I don't know why I'm venting but I guess life takes a toll on us because we are human & I confess I am no hero, I am no different it takes a toll on me too… Miss you Mom hope ur happy wherever you are… Love You the mostest…"
Here's the original post that touched many hearts including that of Ranveer Singh and Kriti Sanon.
Arjun often speaks about his mother and on March 25, marking almost 7 years to her death, he shared a picture with his mother with a caption that read, "You were my smile & I hope wherever you are I make you smile still… it's been 7 years since you left us & all your son is asking you is come back na, please"
The famed actor, like any son, misses his mother dearly. This breaks the notion of cold-family-ties among the stars very firmly. Moreover, Arjun has come a long way in his life, from his weight loss journey to him becoming a sought-out-actor because of his brilliant performances. If only, his mother could witness his transformation and progress.
His song from the movie Panipat is out today announces Arjun Kapoor. 
His latest project, Panipat is yet to hit the silver screens and its trailer has definitely caused some ruckus among the Muslims of South Asia. How will it be received globally is yet to be revealed.
Have anything to add to the story? Comment below!